Free standard UPS shipping in lower 48!!

All rugs come with 

6 D rings for hanging.

Zebra ZLG measures 118 X 76 tip to tip. Single small pleather border.

This monster colored phase black bear measures a huge 85" long from nose to tail.  Very nice chocolate  fur.

Double chocolate felt border.

Leopard Rug Measures 7' X 5', a spectacular specimen rarely found, in almost excellent condition. Newly re-rugged with the finest taxidermy.

Available only to Michigan Residents.  Must have photo ID

This is a very nice rugged wolverine. Great detail of face and marking on back. Measures 50".

This closed mouth bear measures 60" nose to tail. The fur is very thick and shiny. Flat felt border. Perfect rug for that smaller wall.

Don't miss this one!!

Very rare and unique color phase black bear.   Long blond fur with light brown strip down back and chocolate color around the eyes.  

  Measures 64" nose to tail with a brown and tan felt border.

Measures 60" tip to tip. Has long thick and shiny fur. This is a perfect specimen.  Double black border.

The fur is amazingly soft on this gorgeous silver ranch fox, and the tail is extremely full.  measures 64" tip to tip and 39" across.  Black and grey felt border.

This black bear measures 65" nose to tail  Has thick shiny fur.  Double black felt border.

This bear has very thick long fur. Great chocolate color with lighter under tones in the fur.  Measures 66". The perfect rug for a cabin wall.

Measures 60" nose to tail. Extremely soft thick fur.  Double chocolate border.

Silver ranch fox, measuring  60" tip to tip. Long thick fur is amazingly soft. Has black and grey border.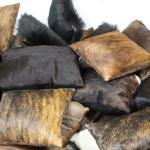 We also have various real fur pillows for sale. Very user friendly. Make great accents in a trophy room, or on a sofa.  Great gift idea.

  Prices are $55 each or 2 for $100. Plus shipping.